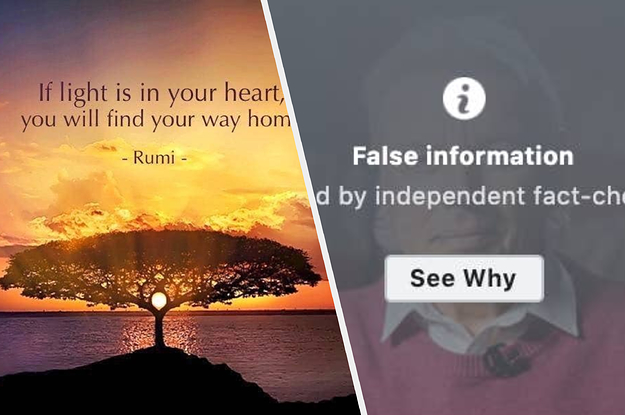 Facebook says it removes content "that could contribute to imminent harm" but more general conspiracy theories do not get removed.
The company believes it is better to leave these things up and label them "false" rather than remove everything, as then it would simply exist elsewhere on the internet.
A Facebook spokesperson said in March the platform removed "hundreds of thousands" of pieces of harmful misinformation and applied warning labels from independent fact-checkers to 40 million posts.
The pivot from Buddha memes to "misinformation" is not unique to Energy Therapy UK.
"Many websites and Facebook pages that were formerly centred around self-care or 'alternative care' have now become fully dedicated to spreading health-based disinformation," William Dance, a PhD researcher in linguistics and disinformation at Lancaster University, told BuzzFeed News.
Other pages have also built up a huge audience posting inoffensive content then suddenly changed tack to more harmful content, he says.
"Facebook and other social media platforms must do more to identify and act against pages who shift their narrative towards disinformation over time."
NewsGuard, a website which gives "trust ratings" to news sites, published a list of 15 Facebook pages around the world which are "super spreaders" of coronavirus misinformation this week.
As well as Energy Therapy UK, it named Health Impact News, which it described as: "a network of health sites that publishes false content… including a false claim that Vitamin C was an effective treatment for the coronavirus" and Tropical Traditions, a page that "publishes a mixture of lifestyle content, recipes, and health information from unreliable sources," which made the same claim about Vitamin C.
Some followers of Energy Therapy UK are not happy with the recent pivot according to posts on the site's Facebook page.
"The page should stick to the positive energy healing" one said. "There were so many political posts I finally quit scrolling through."
"Lately it has been too political and divisive, therefore I am unfollowing" said another. "I try to fill my feed with positive energy."
However other followers are strongly supportive of the Tannas and last week the page addressed the backlash directly, posting to say "we've lost some people and that's fine. But the truth cannot be squashed."